Sign up now:

2019 Organic Vegetable Box
Looking for tasty local organic vegetables this year? Registration is now open for our summer boxes and/or our Fall boxes. By signing up for our vegetable box, you'll not only eat farm fresh organic veggies during the season, you'll also get our weekly e-newsletter with news from the farm, a photo of your box, and our favourite plant-based recipes featuring veggies from your box each! You'll also be invited to our farm tour. You'll definitely learn a lot about how your veggies are grown!

Fresh, Local, Organic… and Delicious
Signing up for our vegetables boxes is the best way to get your hands on freshly picked, local and organic veggies (and supporting the farmers who grow them!). We offer the following types of vegetable boxes that we deliver at various drop-offs in Ottawa, Gatineau, Buckingham, and Lochaber-Partie-Ouest:

Summer Vegetable Box:
We offer summer organic vegetable boxes on a weekly and bi-weekly basis from late June to the first week of October.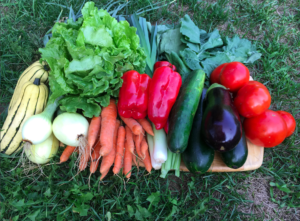 Fall Vegetable Box:
We also offer Fall boxes – that is a box every week from
mid-October to early November
.
Only available at our indoor drop-offs.