2013 CSA Box: We're Full!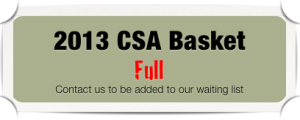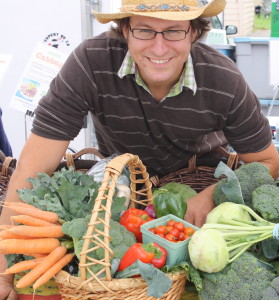 Looking for tasty local organic vegetables this summer? Sign up now to become a CSA partner, and get our weekly or bi-weekly box of organic veggies from June to October! We're full for the 2013 CSA season! However, contact us (by email or phone) to be added to our waiting list. That way, you'll be among the firsts to be informed next year when the 2014 CSA registration begins! For more info our CSA box…
Our Little Farm is proud to celebrate its third year in production!
With more than 8 years of experience in organic vegetable production and Community Supported Agriculture (CSA), Jim the farmer, cannot wait to share his harvest with you. On the menu: more than 35 types of certified organic vegetables grown in l'Ange-Gardien (Outaouais) and delicious recipes to enjoy them. Check out our farm for yourself:
Local, farm fresh & organic veggies
Here's how you can get your hands on our yummy veggies: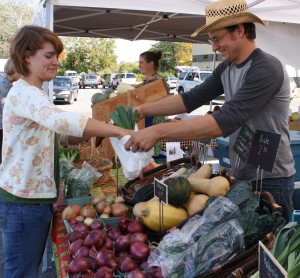 Weekly Organic CSA Basket: Weekly & biweekly deliveries in Ottawa, Hull, and at the farm. On top of getting our farm fresh veggies each week, you'll get our weekly e-newsletter with news from the farm and recipes. You'll also be invited to the farm for a harvest party and family activities (vegetable treasure hunt, etc.). You'll definitely learn a lot about how your veggies are grown!
Farmers' Market: Come see us at Ottawa's Main Market on Saturdays from 9 a.m. – 2 p.m. from May to the end of October.