The summer 2016 CSA season is now over. We will start taking registrations starting in mid-January. If you would like to be notified by email please send an e-mail to jim@ourlittlefarm.ca
Watch our farm video below to get a sneak peek of our farm and a feel for what our organic CSA boxes (CSA) look like. You want in on our weekly or bi-weekly CSA boxes of farm fresh certified organic veggies? Sign up now for the 2016 CSA season while spots are still available!
Community Supported Agriculture (CSA)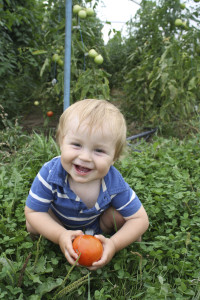 Community Supported Agriculture (CSA) is an approach that directly links consumers with local farmers that use environmentally-friendly practices. Consumers join a CSA by becoming a partner. To do so, consumers pay in advance for a share of vegetables. In exchange, the farmer delivers farm fresh veggies to a drop-off each week during harvest season where consumers come to pick up their veggies. In Quebec, there over 100 farms and 30,000 consumers that participate in the CSA network coordinated by Équiterre. CSA is a win-win formula that, in addition to play an important role in strengthening sustainable & local agriculture in Quebec and Ontario:
It offers you:
A direct link with your farmer
Access to healthy farm fresh veggies at a great price
The opportunity to visit the farm, participate in farm events & know where your food comes from.
It offers farmers :
The support of an amazing community of committed consumers
Revenue early during the season when our expenses are numerous
The opportunity of planning in advance the season's production & harvest… thus enabling the least waste possible.
CSA Basket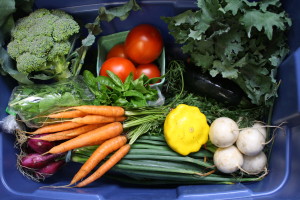 Each week during the season, we will deliver your farm fresh certified organic vegetable basket at the drop-off point you signed up for. The content of the basket varies each week and includes, on average, 8 to 11 different vegetables that are in season. In each basket, we try to include a diversity of vegetables while also providing you as much as we can with a good selection of "staple" vegetables (e.g. carrots, tomatoes, onions, lettuce, etc.)
Another great perk is that we'll also send you our weekly e-newsletters during the season so:
You'll get some of our

favourite recipes

to savour the bounty even more
You'll get all the latest news from the farm
We'll invite you to come have fun during our family-friendly farm events (farm tour & happy hour, veggie treasure hunts, etc.) Good times guaranteed!
Box Price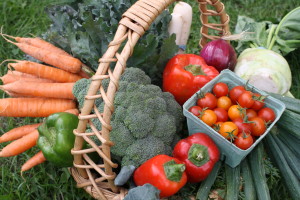 Our farm fresh organic vegetable baskets are available on a weekly basis or every two weeks depending on how many veggies you like to eat. The 2016 CSA box season will run for 16 weeks from late June until early October. We will contact you in early June to confirm the start-date. Here are our 2016 prices* :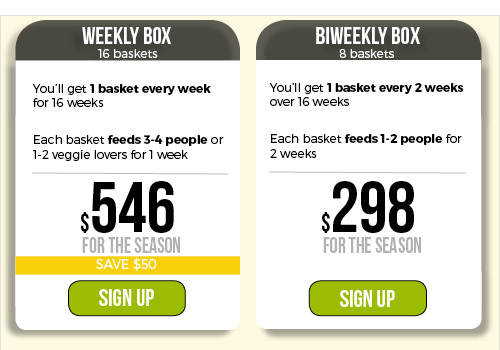 Freshness-wise, you can't get this quality from the grocery store. It's a great deal!
*Prices include a $18 contribution to Equiterre to support their to support their amazing work coordinating the CSA network.
Box Content
What's in your box? Well, each week is a little different. You'll get, on average, 8-11 different veggies per basket. We always try to include a good base of "staple" vegetables (e.g. carrots, tomatoes, onions, lettuce, greens, etc.) and complement with a nice diversity of veggies that happen to be in season that week (e.g. eggplant, zucchini, kale, squash, garlic, etc.) The first few weeks tends to have more greens until the summer's vegetable bounty kicks in. There's also a clearly labelled exchange bin at each drop-off so you can trade 1-2 items per basket if you need to. Here's a glimpse of what some of our boxes looked like in 2014:
Planning Vacations?
We all need a little time off. We're happy to accommodate your needs. Just inform us of your vacation at least 72 hours in advance and we'll let you choose one of the following options:
Get a box on your off-week (bi-weekly partners).
Get a double box another week that works best for you.
Pick up your basket (or send someone else) at another drop-off locations.
NOTE:
Weekly CSA partners can skip a maximum of 4 boxes due to vacation*.
Biweekly CSA partners can skip 2 boxes only due to vacation*.
* Planning a longer vacation? Please contact us and we will see how we can best accommodate.
Drop-off Points
We have many drop-off points, two on the Quebec side and five in Ottawa. As a CSA partner, you simply have to choose the one most convenient for you. It usually only takes partners a few minutes to pick-up their veggies. We highly recommend bringing your own reusable bags and containers to bring our harvest home with you.
Tuesdays from 4-7 p.m.:
Glebe: 166 Glebe (at Angela's B&B, on Glebe near Lyon)

Orleans

(new!)

: 3712 Innes (at Kardish Health Food Centre, Innes Rd between Mer Bleu Rd and Orleans Blvd)
Nepean: 14 Higgins Rd (near Greenbank/Baseline)
Westboro: 517 Cole (near Churchill/Richmond)
Thursdays from 4-7 p.m.:
At the Farm

(new !)

: 829 rang 4e (near Thurso)
Vanier/St. Laurent

(new location)

: 1000 North River (south of Donald)
Hull/Val-Tétreau (Quebec): 56 Bourget (near Moussette Park)
Buckingham (Quebec): 746 Av. de Buckingham (at Fines et Fûtés near the Jean-Coutu/SAQ)
Parkdale: 27 Foster

(new time!)

(near Parkdale/Wellington)
Help us! We are also currently looking for a drop-off location in Gatineau. If you know of a good spot or someone who might be interested in being a host, please contact us (jim@ourlittlefarm.ca or 819-328-3989)!