2018 Fall CSA Boxes:

Now's The Time To Sign Up!
You want to get our organic veggie boxes from mid-October to late November? Sign up now for our CSA Fall boxes. We also offer summer CSA boxes!
Fall CSA Box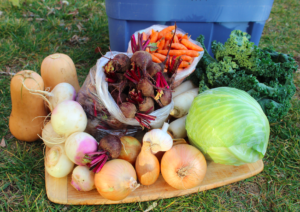 Fall CSA boxes are a great way to extend the season and eat farm fresh local organic veggies until the Holidays (or longer!) Every other week, from mid-October to mid-December, we will deliver your certified organic vegetable box at the drop-off point you signed up for. The content of the basket varies each week and includes, on average, 8 to 11 different vegetables – mostly root/storage veggies (i.e. beets, carrots, turnips, squash, onions, etc.) but also some greens in season (i.e. kale, arugula, etc.)
Another great perk is that we'll also send you our weekly e-newsletters during the season so you'll get all the latest news from the farm, as well as our favourite recipes to savour the bounty even more!
Box Price
Our farm fresh organic vegetable baskets are available from mid-October to late November. The 2018 Fall CSA box season will contain 4 boxes. Here are our 2018 prices* :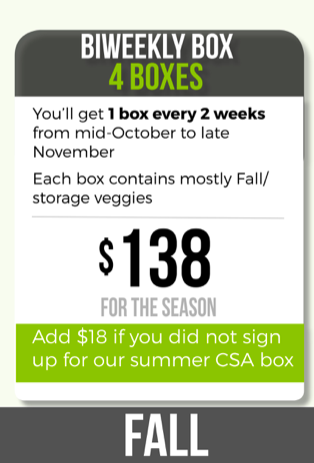 Freshness-wise, you can't get this quality from the grocery store. It's a great deal!
*Prices include a $18 contribution to Equiterre to support their to support their amazing work coordinating the CSA network.
Drop-off Points
We have many drop-off points, in Outaouais and in Ottawa. As a CSA partner, you simply have to choose the one most convenient for you. It usually only takes partners a few minutes to pick-up their veggies. We highly recommend bringing your own reusable bags and containers to bring our harvest home with you.
THURSDAYS:
OTTAWA
Parkdale: 729 Gladstone (at Seed To Sausage, west of Bronson), between 3:30 pm-6:30 pm.
Parkdale

(new!)

: 750 Gladstone (at Pressed, one block west of Seed to Sausage), between 3 pm-6 pm.
Gloucester

(new!)

: 4478 Harper Avenue (near Gloucester Centre), between 5 pm-8 pm.
Orleans: 3712 Innes (at Kardish Health Food Centre, Innes Rd between Mer Bleu Rd and Orleans Blvd), between 4:30 pm-8:30 pm.
OUTAOUAIS
Buckingham: 746 Av. de Buckingham (at Fines et Fûtés near the Jean-Coutu/SAQ), between 3 pm-7:30 pm.
Gatineau (Du Versant District): 470 Gréber Boulevard

(at Brûlerie Charlemagne, at the corner of Saint-René), between 3 pm-7:30 pm.
Gatineau (Mont-Bleu area): 774 Saint-Joseph Boulevard

(at Brûlerie Aladdin, west of Autoroute 5), between 3 pm-8:30 pm.
Lochaber-Partie-Ouest (at the farm): 829 Rang 4E Ouest, between 4-7 pm.