2019 Fall CSA Boxes:

Now's The Time To Sign Up!
You want to extend the season and get our organic veggie boxes from mid-October to early November? Sign up now for our CSA Fall boxes. We also offer summer CSA boxes!
Fall CSA Box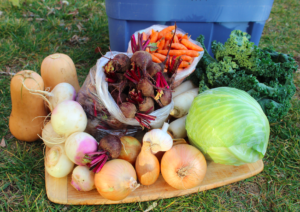 Fall CSA boxes are a great way to extend the season and eat farm fresh local organic veggies until the Holidays (or longer!) Every week, from mid-October to early November, we will deliver your certified organic vegetable box at the drop-off point you signed up for. The content of the basket varies each week and includes, on average, 8 to 11 different vegetables – mostly root/storage veggies (i.e. beets, carrots, turnips, squash, onions, etc.) but also some greens in season (i.e. kale, arugula, etc.)
Another great perk is that we'll also send you our weekly e-newsletters during the season so you'll get all the latest news from the farm, as well as our favourite plant-based recipes to savour the bounty even more!
Box Price
Our farm fresh organic vegetable baskets are available each week from mid-October to early November. The 2019 Fall CSA box season will contain 4 boxes. Here are our 2019 prices* :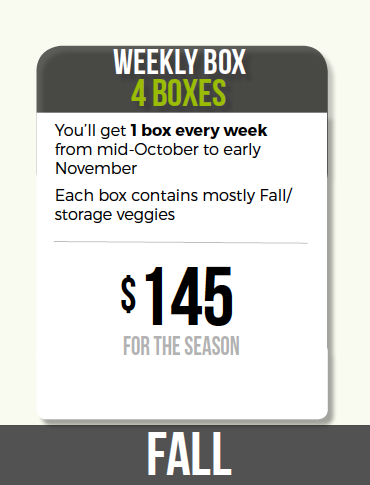 Freshness-wise, you can't get this quality from the grocery store. It's a great deal!
* If you did not sign up for our 2019 summer box, your box price will include an additional mandatory contribution of $ 18 (+ taxes: $ 2.70). This contribution will be forwarded to the Family Farmer Network to provide a variety of services to member farms and make Community Supported Agriculture known to the public.

Drop-off Points
We have many drop-off points, in Outaouais and in Ottawa. As a CSA partner, you simply have to choose the one most convenient for you. It usually only takes partners a few minutes to pick-up their veggies. We highly recommend bringing your own reusable bags and containers to bring our harvest home with you.
THURSDAYS:
OTTAWA
OUTAOUAIS
Buckingham: 746 Av. de Buckingham (at Fines et Fûtés near the Jean-Coutu/SAQ), between 1:30 pm-7:30 pm.
Gatineau (Du Versant District): 470 Gréber Boulevard

(at Brûlerie Charlemagne, at the corner of Saint-René), between 2:30 pm-7:30 pm.
Gatineau (Mont-Bleu area): 774 Saint-Joseph Boulevard

(at Brûlerie Aladdin, west of Autoroute 5), between 3 pm-8:30 pm.
Lochaber-Partie-Ouest (at the farm): 829 Rang 4E Ouest, between 4-7 pm.