Complete the online form below and send us your payment through either:
Interac e-transfer: Send the e-transfer to James Thompson (jim@ourlittlefarm.ca). As a password when you send us your e-transfer, we recommend that you use your client number from our farm which appears on your invoice (including the "0") OR that you text us another password (if so, also text us your full client name).
Cheque: Please make the cheque to Our Little Farm and include your phone number on it. Mail your cheque to: 829 Rang 4e Ouest, Lochaber-Partie-Ouest, QC, J0X 3B0.
Notes About Our Boxes:
The 2019 Fall season will run from the mid-October to early November. We will contact you in September to confirm the start-date.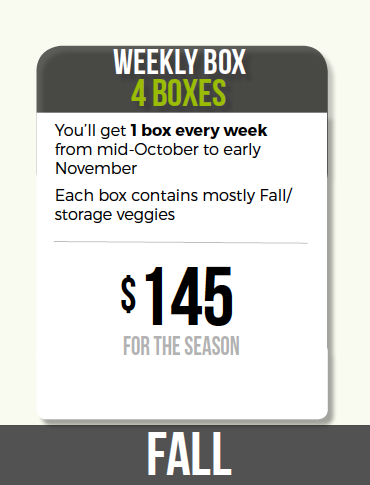 * If you did not sign up for our 2019 summer box, your Fall 2019 box price will include an additional mandatory contribution of $ 18 (+ taxes: $ 2.70). This contribution will be forwarded to the Family Farmer Network to provide a variety of services to member farms and make Community Supported Agriculture known to the public.
You can also sign up for our summer box
TERMS OF SERVICES:
MISSED BASKET POLICY

Please do your best to arrive at the drop-off before the end of your drop-off. You can send someone else to pick up your CSA box.
After 9 pm, unclaimed CSA baskets will be donated or composted. Our drop-off hosts do not have the facilities to refrigerate your CSA basket. If you've forgotten your CSA box, please contact us ASAP and we will see what we can do.
VACATION & SCHEDULE CHANGES POLICY
We are quite flexible in terms of vacation and schedule changes.

You can make changes yourself to your online calendar (move a box to another date, choose another drop-off location for a delivery, etc.) up to 48 hours before any delivery.
Need help? Feel free to contact us of consult the instructions to make changes to your online calendar.
Planning a long vacation or you have a last minute change you need to make? Please contact us and we will see how we can best accommodate you.